Jewelry Repairs
Cleaning & Polishing • Ring Resizing • Restoration
Has your fine jewelry seen better days? Why not bring your cherished pieces to Thacker Jewelry, where our expert jewelers will make them look as good as new.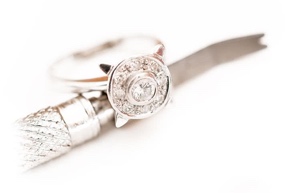 Is your favorite chain broken, or are the prongs on your engagement ring wearing thin? Perhaps your ring is a bit too loose and needs to be sized. Or your white gold ring is looking dull and can use some rhodium plating.
We are always happy to clean and inspect your jewelry at no charge and can evaluate your jewelry for an estimate on any repairs that may need to be done.
Our shop is equipped with the latest technology so every repair will be expertly done to our meticulous standards.
Among the services we provide are the following:
Ring sizing
Jewelry cleaning and polishing
Ring shank replacement
Stone tightening
Stone replacement
Prong tightening and retipping
Soldering
Chain shortening or lengthening
Chain repairs & clasp replacement
Rhodium plating
Come in for a free estimate today!
---
Thank you for your submission. One of our experienced team members will be in touch with you shortly.
---